wendelah1 posting in

fringe_rewatch
There are aspects of this episode that bothered me. The idea of a doctor turned minister who abducts little children and steals their youth for the "greater good"? Really,
Fringe
? But overall I liked it just because I like watching Olivia do her thing. We don't get to see
Altlivia
be a Fringe agent because she's too busy pretending to be
Olivia
in order to carry out her nefarious schemes. But other than trying to survive and get home, Olivia doesn't have a secret agenda so she carries on and works the cases. In the process of catching the bad guys and saving lives, including the life of Colonel Broyles's son, Christopher, Olivia earns the respect and trust of Broyles, who will soon prove an invaluable ally.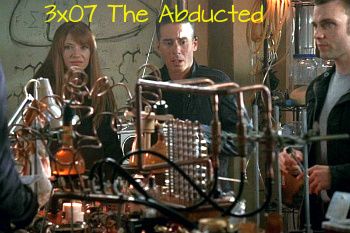 Writer: Graham Roland and David Wilcox
Director: Chuck Russell
Originally aired: 18 November 2010
Synopsis:
When the Candy Man, a serial child kidnapper, resurfaces and takes another victim, Colonel Broyles assigns Olivia, Charlie and Lincoln to the investigation. Convinced she is no longer safe, Olivia contacts Henry and devises a plan to return to her universe.
Most Memorable Quote:
COLONEL BROYLES: Dunham...the FBI ceased to exist over a decade ago...at least on this side it did. You know who you are, don't you?
OLIVIA: What happens now?
COLONEL BROYLES: (pauses) Now...I'm going home.
Links:
Transcript
Polite Dissent
The A.V. Club
Entertainment Weekly
Sarah Stegall
Fanfiction:
Please leave links in comments!